Holidaying in Crete is an experience akin to a sensory bath. This island is big and varied, with an abundance of riches that puts it in the running for the most comprehensive holiday destination in the Mediterranean. With a little over 600 beaches scattered across its 8.450 square meters, it's also a beach paradise that promises endless moments of fun in the sun. Chania in particular, has a plethora of beaches that are simply sensational. And best of all, by choosing Giannoulis Hotels & Resorts you get the chance to pick out your style of beach holiday, whether it's a family-oriented vacation or an adult-themed one. So, read on and find your favourite of its Chania hotels on the beach, depending on your needs.
Best Chania hotels on the beach

For Adults Only
If you're traveling without children and want to maximize your beach holidays, then you're well advised to opt for Giannoulis Santa Marina Plaza Beach Hotel. It is an exclusive haven dedicated solely to adults, offering an idyllic retreat for those seeking tranquility and sophistication. The hotel's commitment to an adult-only environment ensures an atmosphere of the utmost relaxation and peacefulness, creating the perfect setting for romantic getaways or much-needed escapes from the stresses of everyday life.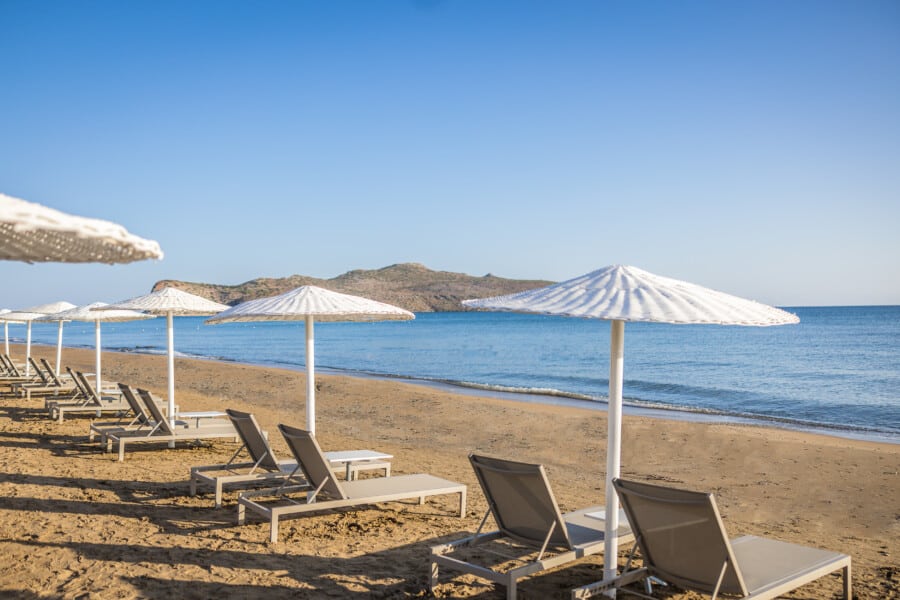 Giannoulis Santa Maria Plaza Beach Hotel offers a sizzling array of amenities. This Chania resort with private beach is great for chilling under the sun and working on a golden tan. Guests are just as welcome to kick back and make use of the wellness & fitness services with an indoor jacuzzi for two, not to mention a fully equipped gym and a massage kiosk. Of course, culinary enthusiasts will be delighted by savouring the delectable cuisine at the hotel's exquisite restaurants.

The hotel offers a buffet-style restaurant as well as Azzuro, the a-la-carte dining option. Meanwhile, the poolside bar is ideal for casual day drinking sessions. The elegantly designed rooms and suites offer idyllic seafront accommodation in Crete, provide comfort and sophistication, and ensure a restful stay.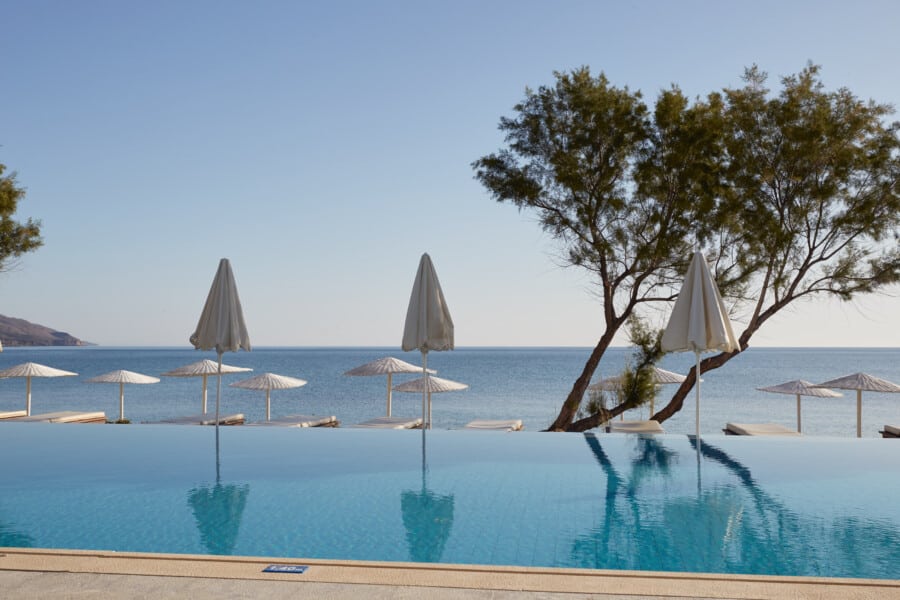 Similarly, Gianoulis' other beachfront property catering exclusively to adults is the Giannoulis Grand Bay Beach Resort. This cozy hotel, within the typical village of Kolymbari, offers an atmosphere of serenity and elegance for solo travelers and couples.
Beyond its exclusive adult-only focus, Giannoulis Grand Bay Βeach Resort boasts an endless array of comfort-oriented facilities and experiences to enjoy. Of course, the stunning beachfront location is the centerpiece, allowing guests to step onto the mixed sand/pebble beach for sun-soaked relaxation. Guests staying here rest assured that the blue-flag Kolympari beach is a crystal-blue safe haven for endless leisure along the shore.
The hotel's beachside bar and restaurant offer delectable cuisine and refreshing drinks with an uninterrupted view of the Mediterranean. The Azzuro a la carte restaurant is one of Chania's gastronomic highlights, so make sure you reserve your table sooner rather than later.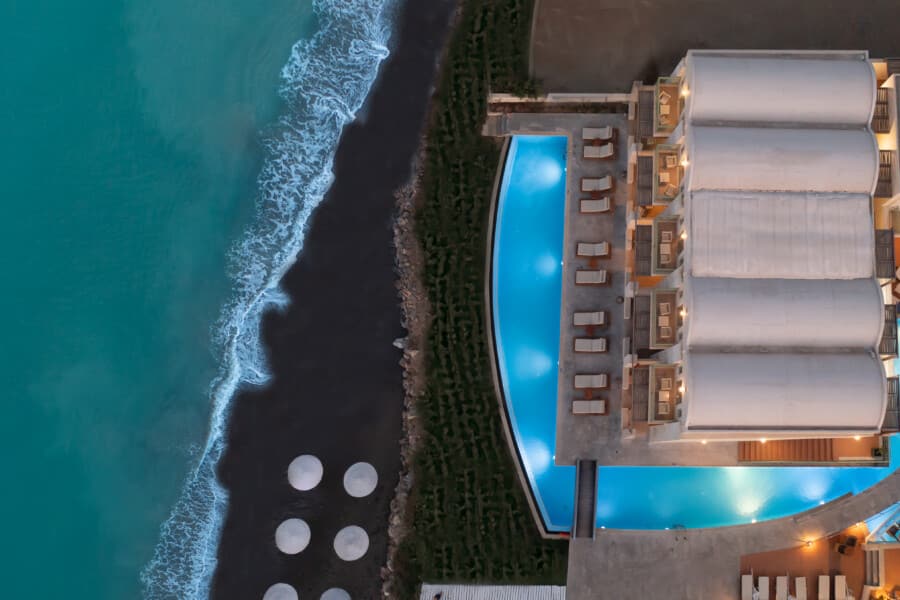 This beachfront hotel includes 3 pools, one of which stands out as a river-style swimming pool. Giannoulis Grand Bay Beach Resort offers four different types of adults-only accommodation in Chania that are privy to shared pools. In addition to that, the wellness center has a sauna, while massages, facials and various other treatments are available.
Both of these adult-oriented Chania hotels on the beach offer guests a unique opportunity to relax and recharge with carefree holidays in an adults-only all-inclusive resort in Chania. At the same time, they can also cater as settings for dreamy wedding receptions and events.
For Families
On the other hand, the hospitality group also caters to families, as is the case with Giannoulis Santa Marina Beach Resort. It is located within the village of Agia Marina, a mere 8 km from Chania and divided into three sections, each with its own allure and vibe. 
The beachfront is a central attraction since this Chania beach resort with pools is named after the blue flag Agia Marina beach that graces its shore. The long sandy stretch of pristine beach allows families to spend quality time building sandcastles, and taking refreshing dips in the crystal-clear waters, while guests who choose the beach front hotel room in Chania at our Beach complex can soak in the spectacular seascape on the daily. For all beachgoers, the resort's restaurants and bars serve up delicious cuisine and beverage selections for both adults and children, making it an ideal spot for family gatherings, some coupled with panoramic views of the sea, as is the case for the a la carte Sea Line Tavern.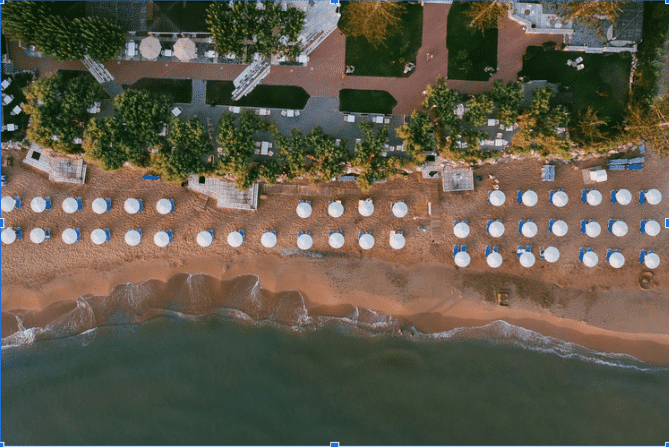 This beachfront Chania Crete family resort with mini club offers child entertainment and a mini-club where kids can spend quality and fun time painting, playing and engaging in activities while their caregivers enjoy some time alone. The hotel complex also incorporates a fully equipped gym for those who seek to maintain their workout routine whilst away from home. To further enhance your wellness levels, booking a massage therapy session in a secluded and serene spot after an exciting day will leave you feeling replenished.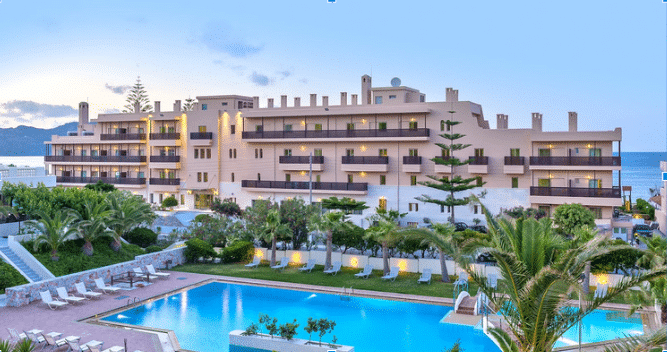 As you would expect of one of the best Chania hotels on the beach, food options at Giannoulis Santa Marina Beach are plentiful, with a total of four restaurants to choose from. In addition to the aforementioned Sea Line, there is also a second la carte Azzuro restaurant as well as the main restaurant and a second buffet restaurant, that of Thodorou.

For drinks, guests may choose between the three bar options that encompass a pool bar, a beach bar, and the main bar. For those yearning to rejuvenate their spirits, we recommend embracing the enchanting Cretan Nights, a captivating and highly anticipated weekly event.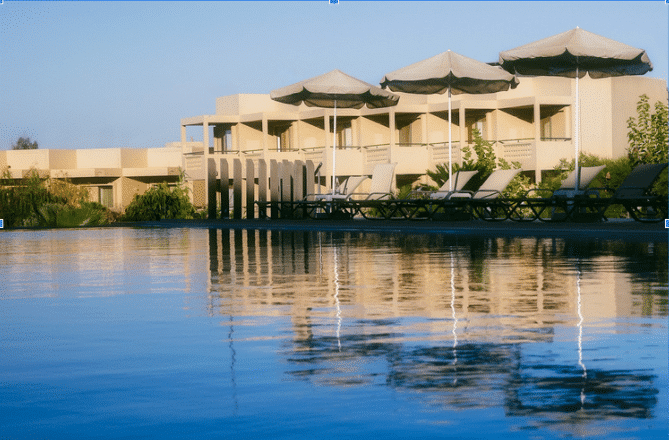 Giannoulis Cavo Spada Sports & Leisure Resort is another one of the best Chania hotels on the beach for families. This veritable hospitality complex rests on 65,000 square meters of prime real estate and is located within the Gulf of Chania with breathtaking views of Cape Spada. It also comes with a blue flag-certified beach to go with it making it a premium luxury beach resort in Chania. The beach offers a comfortable setup for families, made up of a mix of sand and fine pebbles, with plenty of space for safe playing.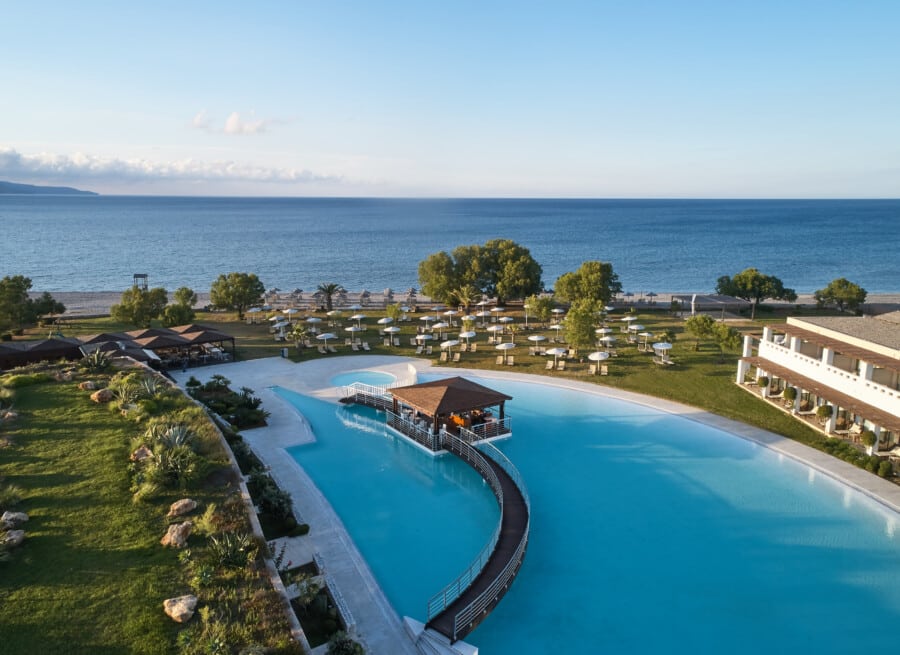 What immediately stands out is the enormous lagoon-style swimming pool, with a unique bridge-accessed pool bar in the middle. As pool bars go, this one is right up there with the most exotic. There is also a children's pool, with 40 centimeters of depth, perfect for safe splashing around. Ample seating is provided with numerous lounge chairs around the pool.
If guests are up for some exercise, then that is also available through the Sports Club, where guests can partake in various activities aimed at strengthening their stamina and increasing their energy with some cardio workouts. It is designed for both adults and kids who want to partake in activities such as aqua aerobics, pilates and zumba among many others.
The facilities include two pétanque courts, a multicourt for 5-a-side football, volleyball and tennis, as well as an indoor and outdoor fitness center.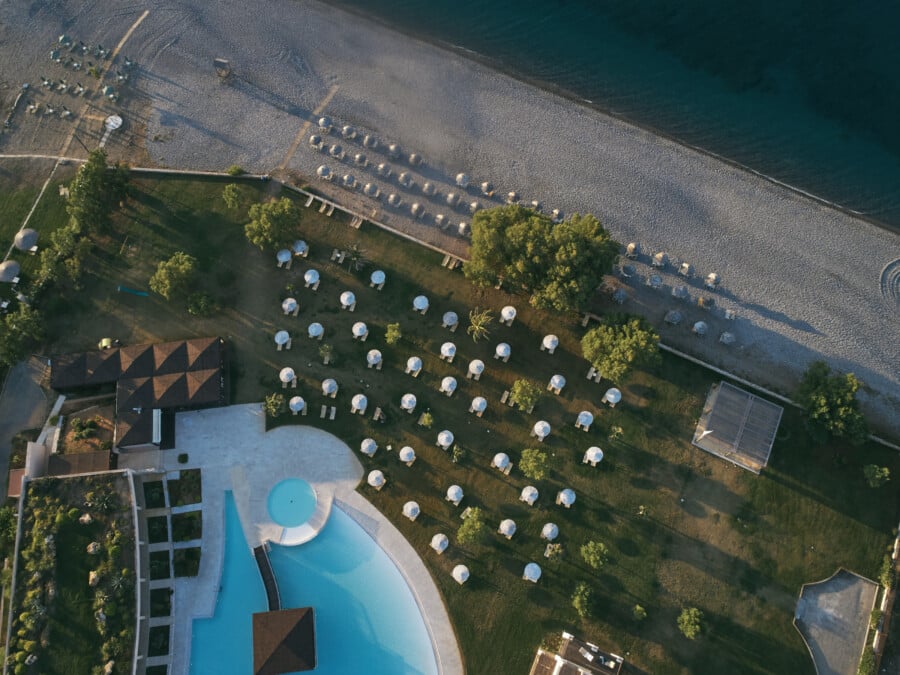 To tend to your body, after a workout, we recommend you try the restorative treatments offered at our wellness & spa hotel in Chania where a range of treatments, including both face and body, promise to lull you into a state of relaxation. The facilities include a sensational indoor heated swimming pool, hydro massage, jacuzzi, Turkish bath and sauna.
Kids are more than well looked after here, with the resident Mini Club offering kids over the age of 3 a plethora of activities that include clay sculpting, board games, puzzles, ball games and painting amongst others. Parents can rest easy, knowing that a professional team of supervisors tend to the little ones.
Of course, for families who want to experience the entire spectrum of Giannoulis' hospitality should opt for the all-inclusive boarding arrangement.
Giannoulis Hotels & Resorts offer some of the best Chania hotels on the beach that are ideal for any type of traveler, whether they are families with children, or simply couples and solo travelers. With an impressive array of amenities and facilities, as well as a tremendous natural landscape surrounding them, the four aforementioned Chania hotels on the beach are poised to deliver sensational experiences to all guests.